Do all men fall asleep this way?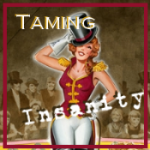 I am over at
Taming Insanity
(a funny blog by KLZ, who also writes for

Eli/Rose Social Media

, an awesome website FULL of blogging tips, SEO information, one-on-one blogging consultation, etc.)

talking about the way my man falls asleep.
I'd love to know if he is the only one that falls asleep the way he does or if there are more out there like him! Also included in that post? A picture of me with the Luck Dragon from The Never-Ending Story. If you are a fan, you will want to see this rare treasure! Because it is your lucky day, I've arranged for the Luck Dragon to take you right to it!
______________________________________________________________________
Today's

Juice In The City

Deal
In the Houston area
Ladies, it's summer, as you know. I am sure many of you have strutted your stuff on the runway or beach or around the edge of the public pool already.
Strut with more confidence by getting a bikini wax!
If you've never thought about it, today's deal may be just what you need to
really
start thinking about it and, hopefully, put some action behind those thoughts!
A bikini wax is typically $40 but is only $20 with this deal over at Cheveux Salon with Nikki Donaldson of Namaste Beautiful.
Cheveux Salon is on South Mason Road in Katy, Texas. If you are interested in this deal, please go
HERE
.