My SITS Day Is Here! (Alternate Title: Why My SITS Day Reminds Me of Childbirth)
Okey-dokey, folks.
It's time.
It's business time.
Not
Flight of the Choncords
kind of business time, but...
business
time. Why do you think I have been scrubbing this orange chair up here in the right-hand corner for the last 2 weeks straight and practicing my high kicks?
It's business time because it's
SITS TIME
.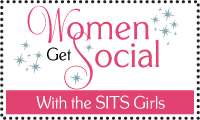 Uh-huh! That's right! It's my
SITS day
finally. I may have had a SITS day earlier in my blogging journey if I would have gotten my act together. When it comes to blogging, life, brushing my hair and using all of the stamps I put in my purse before they become stuck on everything except a piece of mail, I do not always have my act together. No, ma'am.
(I know many of you have no clue what I am talking about. The website, www.thesitsgirls.com, is an AWESOME spot on the web that brings bloggers together, shares blogging tips and provides an opportunity to become the "Daily Featured Blogger" on their site. They have over 21,000 likers on Facebook and over 17,000 followers on Twitter. THEY AIN'T SMALL POTATUHS! Today is my day to be the "Daily Featured Blogger".)
I'm not sure why it took me so long to get it together. Maybe the SITS acronym reminds me of the sitz bath. Maybe this connection distracted me so much and had me remembering labor pains so vividly that I could not bring myself to get in line over at the SITS Girls. The Sitz (Bath) Girls.
Maybe it had me remembering the morning my water broke with my second child. We rushed up to the hospital where no one was waiting outside to wheel me in because it was so dingdang early. My husband and 3-year-old dropped me off at the front of the huge medical center hospital and then sped off to park really fast. Meanwhile, I stumbled and moaned my way to a wheelchair while leaking like a popped hot water balloon, propelled myself around with my feet while clutching my abdomen and yelled out, "SOMEBODY HELP ME OVER HERE ALREADY!" It was like Ghost Town University Medical Clinic in that place.
Someone eventually came because it wasn't much longer before I was hearing all about the sitz bath, which, by the way, is technically just a bath. I guess it most often refers to baths with something-or-other in the water to heal sore hind ends, though.
"Make sure you take your *sitz bath after you pop out that baby, 'mmmkay?", said the Labor & Delivery nurse not too long afterwards. "And put these witch hazel pads on your sore hooha." (She may have used different words.)
Can't you see where the SITS/sitz connection might have caused me to wait a while before getting in line? I don't know if it's the whole SITS/sitz connection that prolonged this exciting day or what, but I'm just glad it's finally here. I have been anxious to see your faces! Thanks for stopping by and hanging out in The Break Room, whether you are new here or have been around a while.
Make yourself at home!
**Thanks to the awesome ladies over at

The SITS Girls

for having me at their place today AND special, special thanks to Aimee Giese of

GieseMedia.com

for the blog design help!**