10 things you don't want to hear when getting your picture taken
I blame Groupon. Or Living Social. It's one of those companies that had a deal for a photography session with one of those mall photo places. We hadn't been to a mall photo place in a while because I would prefer that a friend of mine take our pictures. (Her name is Kelly, too.) I love her pictures, but since this deal came along last year we thought we should snatch it up just this once. Last year, the deal was great. They told us if we came back once more within six months, we could get a free this and a free that and basically our payment could be made in pennies. We like free. It wasn't free. We will never, ever go back there again. Ever. Don't even get me started on how sick I am over the amount we paid for those dingdang pictures. Seriously, it makes me sick. Just Don't EVEN get me started.
(For future reference, when I say, "Don't get me started, don't EVEN get me started", I'm always picturing Molly Shannon as Jeannie Darcy
here
. Just FYI.)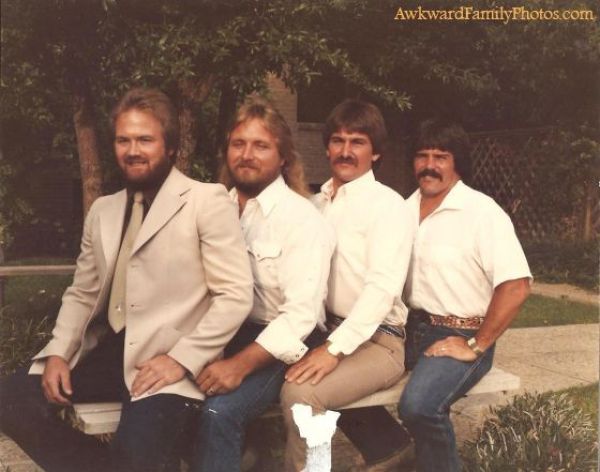 I was looking for a funny family photo, but came
upon this one and just could not resist.
Source
.
The only thing that can make me smile when I think about those stupid pictures
are...
1) the stupid pictures (there were some cute ones) and 2) the list my husband and I came up with on the way to get our pictures taken. The list titled...
10 THINGS YOU DON'T WANT TO HEAR WHEN GETTING YOUR PICTURE TAKEN
#1

Before your whole family has even set all of their feet inside the mall studio, you hear the photographer say,

"What's your credit card number? I'm going to need that 3-digit security code on the back, too. We accept tips. Glad you could make it!"
#2
You're greeted with,
"Are you looking for the Food Court? You look like one of those people who are always looking for the Food Court. Let me help you out. Funny thing is, you just missed it! It's three-and-a-half miles back to your right, but you could use the exercise, right? HAHAHA!!!"
(Malls are so dang huge.)
#3
"She's just here to watch, right?"
because the photographer thinks you look like you just finished working in the yard and definitely don't look photographable (made that word up, I think) when actually you are a sweating mess because you had to get your whole entire family dressed in coordinating outfits, brush their hair, make them walk fast through the mall, tell your kids to quit playing on the escalator, reply to your sons repeated, "I HATE pictures!" with "We don't say 'hate'! You better smile when he says to smile!", keep walking fast so you're not late and then arrive at the appointment that you tried to cancel 23 hours in advance because you had second thoughts and the blood-thirsty photographers said that 23 hours wasn't 24 hours notice and, if you canceled, they would bill your credit card $25.
#4
"Welcome! Go ahead and have a look at our wardrobe station in the back and come out when you're ready",
even though you dressed your whole family in outfits you thought were cute. Since you're pretty sure mall photo places don't have "wardrobe stations", you are convinced that what they are really saying is to run out of the second-floor mall photo place as fast as humanly possible, even if that means you accidentally run off the second story and fall on top of the gigantic tree in the middle of the kids' play area and are stuck up there until the fire department comes with a large ladder and has to carry you down.
#5
"Take as much time as you need to fix your hair and then we'll get started"
when you just spent tons of time on getting your hairdo perfected just before you arrived. You even busted out the hot rollers and used some hairspray. You remember winking at your reflection and thinking you looked like hot stuff and are absolutely crushed the photographer thinks you look like you just went through a level 5 hurricane.
#6
"Okay, everybody smile!! Smile! Smi... Ew. You on the far right, don't smile. Everybody else, smile!"
#7
"Alright, you on the left, take two steps to your right. Okay, two more steps. Try one BIG step. Bigger. Okay, perfect."
You look down and find yourself totally off the photo backdrop and realize the photographer just ousted you from the picture. You stand there and start bawling over the injustice of it all, accidentally pee in your pants, which then drips onto the backdrop and makes bouncers appear out of nowhere and escort you to the largest mall dumpster they can find.
#8
"Okay, for this picture, I'm going to need Mom to stand BEHIND the backdrop. Actually, Mom, stay behind the backdrop the whole time."
(Because photographers are always referring to the parents as "Mom" and "Dad".)
#9
"Do you mind if we submit these to the 'Awkward Family Photos' website?"
#10
"All done! Now, go get yourselves a snack and be back in about 25 minutes so you can view the pictures and then we can take all of your money out of your bank account right in front of your eyes. YOU'RE SO STUPID!! HAHAHAHAHA. See you soon! Enjoy that fattening pretzel. HAHAHAHA!!!!"
Don't even get me started about the picture viewing time when the pictures are ready. The VERY LENGTHY picture viewing time where you are batting off the blood-thirsty photographer AND telling your kids to quit wrestling in the studio for the 18th time in a row. Don't even get me started.
_____________________________________
One more thing... THIS Wednesday, I am partnering with a new blog friend of mine named Anna from
My Life and Kids
for a link-up. Anna writes a funny blog with a parenting slant. Love it! I know, I know...I don't DO link-ups. I rarely participate in memes, "blog hops" and all of that jazz. For me, this is different. Our link-up this Wednesday, and possibly for several Wednesdays afterwards, as you can see from the banner above, will be called "FINDING THE FUNNY". Basically, you just link-up any post that you have written that is humorous and that you would like others to read.
I am planning on reading every single one of them.
I'm excited! This is a link-up for everyone, so men, children, the elderly and the kangaroos, I'm looking at you.